---
AUDI R8 CARBON FIBER | PARTS & ACCESSORIES
Explore the finest selection of Audi R8 parts, Audi R8 accessories, and similar to Audi R8 OEM parts designed for both Gen 1 and Gen 2 Audi R8 Coupe & Spyder models, including V8 and V10 variants. Our extensive catalog covers everything from Audi R8 Aftermarket parts to high-performance Audi parts upgrades. Whether you're searching for Audi R8 replacement parts, R8 accessories, or enhancements, we have it all. Find top-quality Audi R8 parts for sale and elevate your Audi R8 accessories with performance and style. Browse our collection and discover the perfect fit with Audi R8 parts today.
---
(GEN 1) | AUDI R8 REAR WINGS IN CARBON FIBER
---
(GEN 1) | AUDI R8 PARTS COLLECTION
---
(GEN 2) | AUDI R8 PARTS COLLECTION
---
AUDI R8 GEN 2 CARBON FIBER
Your Premier Destination for Audi R8 Parts and Accessories. Explore our extensive catalog of Audi R8 parts, including Audi R8 accessories, similar designs as Audi R8 OEM parts, and a wide selection of Audi parts in carbon fiber. Whether you're looking for Gen 1 or Gen 2 R8 parts, we have you covered. Browse our collection of alternative to Audi R8 spares, used Audi R8 parts, and much more. Elevate your Audi R8's style and performance with Autobunch®, where quality meets excellence.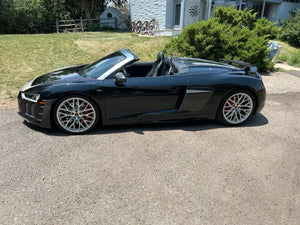 (GEN 2) GT4 LMS-STYLE SIDE BLADES
Similar to the GT4 LMS Side Blades. This carbon fiber direct replacement part is made to fit just like the original Audi R8 OEM part, these carbon side blades are wide ventilated for maximum cooling and efficiency.
VIEW PRODUCT
(GEN 2) GT-WING (FACTORY-STYLE)
Comes in carbon fiber glossy weave finish same as OEM. Weather you want to upgrade or replace your original part this is our GT-Style Rear Wing.
VIEW PRODUCT
(GEN 2) GR2 FRONT SPLITTER
Elevate the appearance of your Gen 2 R8 with the expertly engineered GR2 Aud R8 Front Splitter in carbon fiber. Experience a striking and sophisticated front-end design.
VIEW PRODUCT
---
JOIN OUR COMMUNITY
Join our community of satisfied Audi R8 owners who have experienced firsthand our exceptional customer service and prompt delivery of Audi R8 parts. Discover why enthusiasts like you trust us for all their Audi R8 needs! Read More
VICTOR'S 2012 COUPE V10 | ENGINE VENTS | MONTERREY NLE, MEXICO

JOSH'S 2020 R8 V10 COUPE | REAR WING | OCALA, FL

CUSTOMERS 2014 V10 COUPE | REAR WING | PHOENIX, AZ
VICTOR'S 2012 COUPE V10 | ENGINE VENTS | MONTERREY NLE, MEXICO
JOSH'S 2020 R8 V10 COUPE | REAR WING | OCALA, FL
CUSTOMERS 2014 V10 COUPE | REAR WING | PHOENIX, AZ